The Art of Biking! Tour Info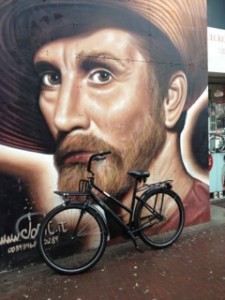 Zondag 7 Juli, 2013
(Sunday, July 7th, 2013 see English below)
12.30 – Verzamelen bij Koffiehuis KHL Amsterdam
Oostelijke Handelskade 44
1019 BN Amsterdam   http://khl.nl/
Gratis hors d'oeuvre na de tour
13.00 -Begin drie uur durende tour. We bezoeken verschillende galeries en ateliers, een breed spectrum van Amsterdamse kunst.
16.00 – 18:00 Terugkeer naar De KHL café. Concert door het East-Roots Jazz Trio. Napraten met de andere deelnemers van de fietstocht onder het genot van een hapje en een drankje.
Kosten: 19,50 euro (contant betalen voorafgaande aan de tour).
Inclusief: Drie uur fietstocht, jazzconcert en een gratis hors d'oeuvre na de tour.
Niet inbegrepen: eten en drinken aan het eind van de tour.

Voor fietstocht reserveringen (aanbevolen, er is een beperkt aantal tickets) of informatie:
createcontinuum@gmail.com
De deelnemers aan de fietstocht moeten hun eigen fiets meenemen. Als u geen eigen fiets heeft : fietsverhuur http://macbike.nl. Meerdere locaties in Amsterdam.
De 'Art of Biking' Tour gaat altijd door, bij zonneschijn of regen…. dit is Nederland!
links: https://www.facebook.com/rideandsee
ENGLISH
Sunday, July, 7th, 2013
 12.30 – Gather at cafe. Koffiehuis KHL Amsterdam
Oostelijke Handelskade 44
1019 BN Amsterdam    http://khl.nl/

13.00 – Leave for three hour tour. We go to galleries and artist's studios; a wide spectrum of Amsterdam art.

16.00 – 18:00 Return to café. Music with the East Roots Jazz Trio. Hang out with the other bike tour folks with optional food and drinks.
Cost: 19,50 Euros (pay cash before tour).
Includes: Three hour bike tour, jazz concert and hors d'oeuvres after tour.
Not included: Food and drink at end of tour.

For bike tour reservations (reccommended, limited number of tickets) or questions, please contact: createcontinuum@gmail.com

Tour participants must have their own bike. If you don't have your own bike here's a bike rental suggestion – http://macbike.nl. Multiple locations in Amsterdam.
Tour will go rain or shine….this is Amsterdam!